Mr. Christopher Tobias | Mr. Mike Kijowski
Miss Kristen Rylander | Mr. Liam O'Shea
---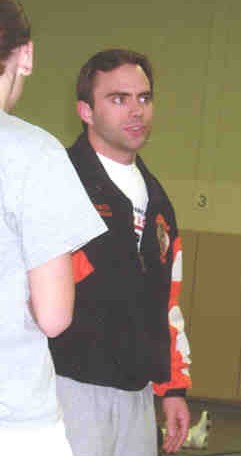 Mr. Christopher Tobias
Head Coach/Club Sponsor
Career Coaching Record: 91-44 (.674)
Mr. Tobias, a German teacher at Bethel Park High School, is the head coach, co-founder and sponsor of the Bethel Park Fencing Club. He has been actively involved in fencing for approximately nine years. He has earned a D rating in sabre, and has competed on both the Pittsburgh (Western PA) and Mid-Atlantic Regional Circuits. In addition to his duties as head coach at Bethel Park, Mr. Tobias currently serves as the Media Contact for the Pittsburgh Scholastic Fencing Conference (PSFC). He is former Vice-Chair of the Western PA division of the USFA and co-founder of the CORSAIR fencing salle of Pittsburgh. He is an associate member of the United States Fencing Coaches' Association, and also served as the Chairman of the Pennsylvania Intersholastic Fencing Association (PIFA) from 1998-2001. Mr. Tobias is a graduate of Bethel Park High School and the University of Pittsburgh. In his spare time he enjoys fencing, reading, and studying various forms of martial arts. He is also an avid fan of practically all sports. Mr. Tobias currently lives in Upper St. Clair, PA with his wife, their son, and two cats.
G Top G
---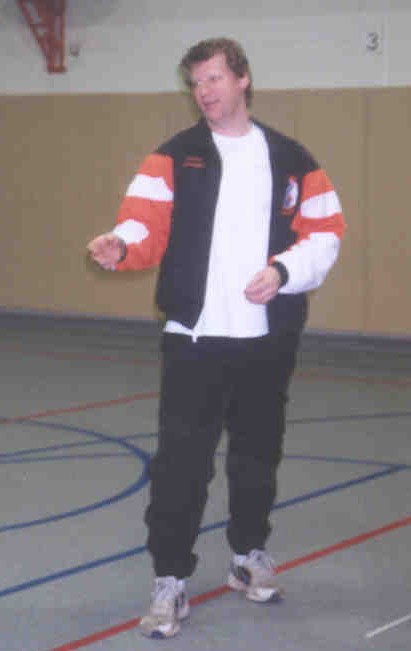 Mr. Mike Kijowski
Associate Head Coach/Armourer
Mr. Kijowski's fencing experience includes intercollegiate fencing as the captain of the varsity team at Indiana University of Pennsylvania in the days when their club was still a Division II intercollegiate team. He is a graduate of IUP, and holds a B.A. in education. He has earned a D rating in foil, and is also an experiencd armourer. He currently manages a Radio Shack store, and in his spare time he collects antique weapons and participates in reenactments of battles from the French and Indian War in various locations in the Northeastern US and Canada. Mr. Kijowski is a resident of Carnegie, PA.
G Top G
---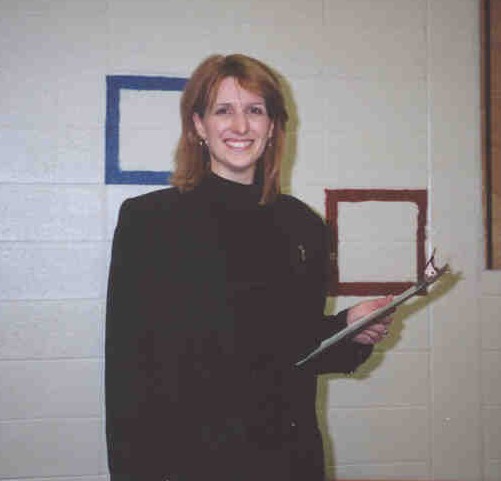 Miss Kristen Rylander
Assistant Coach/JV-Middle School Head Coach
Miss Rylander, a 5th grade teacher at Neil Armstrong Middle School in Bethel Park, is an assistant coach and co-founder of the Bethel Park Fencing Club. She was a member of the women's fencing team at Macalester College in St. Paul, Minnesota, and is a former Mid-Atlantic Sectional Women's Sabre Champion. While in college, she placed 6th in women's sabre at the USFA National Championships, and was a runner-up in women's foil at the Minnesota State Collegiate Chmpionships. She is a former member of the Executive Board of the Western PA Division of the USFA, and has earned a D rating in foil. In her free time she enjoys taking part in French and Indian War reenactments. Miss Rylander currently lives in Carnegie, PA.
G Top G
---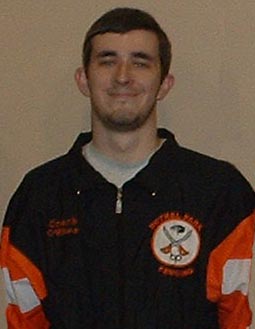 Mr. Liam O'Shea
Assistant Coach
Mr. O'Shea, who will be joining the Bethel Park coaching staff for the 2003 season, is a 1997 graduate of Bethel Park High School and a charter member of the Bethel Park Fencing Club. Since interscholastic competition did not begin until one year after his graduation, he never had the chance to fence for Bethel Park's varsity team, but after a brief period of service in the US Navy, he returned to the Bethel Park Fencing Club and eventually earned an E rating in both foil and epee. In 1999 he became the first Bethel Park fencer to earn a college scholarship when he received a partial fencing scholarship to Cleveland State University. As a member of Cleveland State's varsity men's epee team, he received the Szent Kirayi Award as the team's outstanding first-year men's fencer. He earned a varsity letter at Cleveland State, and also served as the team's armourer. He still holds the BPFC records for most bouts fenced and touches scored, and today the Bethel Park Fencing Club awards an annual trophy that bears his name to the fencer who does the most to promote the team and the sport in the Bethel Park schools and community.
GTopG