Middle School & Junior Varsity Tournament
The fencing club hosted the PSFC's JV/Middle school tournament on Tuesday, May 6. Fencers who previously had no chance to fence in the regular season competed in a mixed tournament among eight fencers. Congratulations to Sami Leshen, who captured first place! Thomas Flavin earned second place, and Kim Krulikowski placed third. Statistical results will be posted soon.
End of PSFC Competition Season
The last varsity competition of the season was on Thursday, April 24. This was a very important competition for the Bethel Park Girls' Varsity. To capture the title of "Conference Champions," they had to defeat the only team that had previously beaten them: Taylor-Allderdice. Unfortunately, the girls did not succeed. After a hard-fought match, Taylor-Allderdice captured the championship. The Boys' Varsity also competed, and secured a winning night by defeating both North Hills and Upper St. Clair. They were unable to fence Taylor-Allderdice because of time constraints, and therefore were undefeated for the evening! Thanks go out to all supporters of the team who attended and cheered for the Girls' and Boys' Varsity Teams.
Yearbook Pictures Are in!
On Thursday, January 9, the Fencing Club yearbook pictures were taken. Here is the team photo: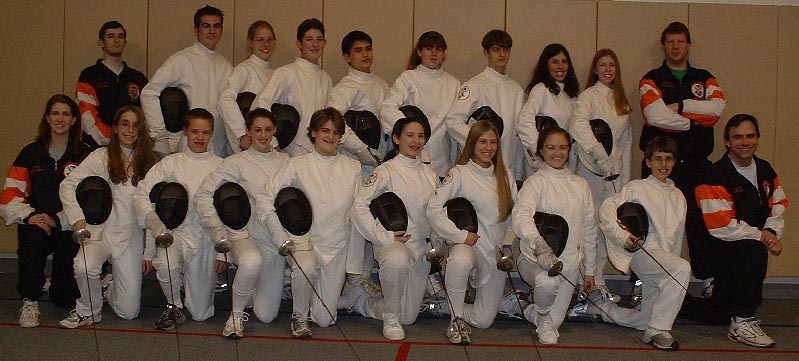 To see more pictures, click here!
---
Laurel Highlands Open
On Saturday, March 15, some club members attended the Laurel Highlands Open at St. Vincent College. Medal-winners were as follows:
Women's E-Foil:


Maria DeLucia  8th place
Callie Knuth  9th place
Brittany Thomas  10th place

Men's E-Foil:


David Richie  9th place

Women's Open Foil:


Kaylyn Rhoads  5th place
Callie Knuth  7th place
Kim Krulikowski  8th place

The resultant statistics from the Laurel Highlands Open are sealed until the end of the season. Congratulations to all the participants!